Steven Maxwell Mitchell
April 26, 1965 – August 22, 2018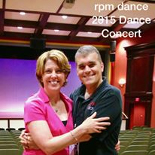 In 2005 Steve and I launched rpm dance, a studio that was birthed from our combined vision and hearts. While I had the artistic blueprint in my head, it was Steve who made it happen.  Every step of the way, he told me we could do it, and he was willing to sacrifice anything and everything to make it happen. When I had a new idea, he worked to make it a reality.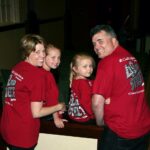 Steve and I met at a church in Las Vegas where he served as the Worship Leader and I was hired as a Director of the Arts.  We played contemporary worship together with Steve playing acoustic guitar while I played the piano and keys.  We each led the band in different services, always playing together. We found that we shared the same fervor for Jesus and the same desire to see the Arts used to shape and impact the culture.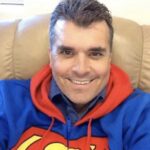 Steve worked tirelessly for rpm dance.  He designed the rpm logo and every shirt, graphic, accounting protocol and spreadsheet for the first decade that rpm existed.  Steve would spend hours working on programs and edits because the details were SO important to him. In his eyes, it  mattered so much that we always put our best foot forward in everything. There are countless tasks that I do every day that I learned from him.  I have so many memories, from the early years, of Steve staying up till 2:00 or 3:00 in the morning, to roll out a program or creative idea.  These were usually my ideas that he was THAT committed to. I will also never forget Steve laying down the rpm dance floor each week for our dancers when we shared the space with a church.  Then, after the service, he picked it all back up again.  He did this for years.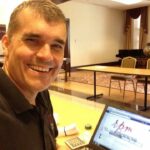 Steve loved our students and was thrilled to see their growth. He was an amazing person, with a unique heart and extraordinary faith.  Rpm would not exist were it not for his selfless service and his undying love for me, and the vision.  With all my heart, and with my deepest gratitude and love, I pay tribute to him here as Co-Founder of rpm dance.  Well done Steve. The vision continues. I hope that you can see us, and you are smiling.